STUDENTS DIFFICULTIES IN TRANSLATING CULTURE-SPECIFIC TERMS
Abstract
This research is the study of the difficulties faced by students of semester V
faculty of Letters, Balikpapan University in translating a culture-specific
text from English to Indonesian Language. The research is qualitative; data
collecting is done by distributing the text contains American culture of
baseball sports to translate and interviewing students to identify their
difficulties. From the result, it is concluded that the difficulties faced by
students in translating the texts is caused by their lack of understanding of
the Source Language culture, in this case , the baseball sports, their poor
knowledge of the sport itself and their low experience in reading a
discourse from the same context. It is recommended for translation subject
lecturer to provide students a broad knowledge of the cultural context of
source language to help them improve their translation skills.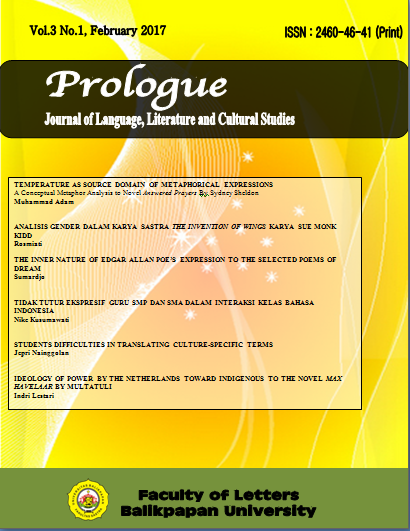 How to Cite
Jepri, J. (2018). STUDENTS DIFFICULTIES IN TRANSLATING CULTURE-SPECIFIC TERMS. Prologue: Journal on Language and Literature, 3(1). Retrieved from https://prologue.sastra.uniba-bpn.ac.id/index.php/jurnal_prologue/article/view/15
Section
LANGUAGE AND LINGUISTICS