ANALISIS GENDER DALAM KARYA SASTRA THE INVENTION OF WINGS KARYA SUE MONK KIDD
Abstract
This research is based on the fact in the literary novel entitled "The
Invention of Wings" imaginary form of the family. Gender in this
research is based on the construction of the social relations of the men
and the women of gender bias. Construction of social nuances patriarchal
in the novel as the implications of social context into the reality or the
facts in the literature. there are also the social context in which the
background is a novel culture highlights issues in South
Georgia.Focuseson the analysis of women as representation in the work
of literature using gender perspective. Thepublic expression of the form
or expressions can become a myth to women. As a result, women
experienced injustice in the form marginalization, subordination,
stereotypes, violence. Women who have experienced injustice in the "The
Invention of Wings" are the daughter grandparent, mother, and Ivory. The
three of different generations have experienced injustice in a way. It can
make self-awareness in the last two generations of the women. By
showing the authorities themselves in the men are expected the
recognitions and canbe sparedfrom dominance that tends to demean
women.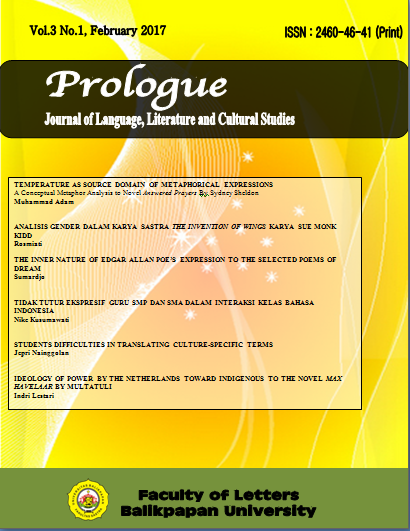 How to Cite
rosmiati, rosmiati. (2018). ANALISIS GENDER DALAM KARYA SASTRA THE INVENTION OF WINGS KARYA SUE MONK KIDD. Prologue: Journal on Language and Literature, 3(1), 18–36. Retrieved from https://prologue.sastra.uniba-bpn.ac.id/index.php/jurnal_prologue/article/view/12
Section
LANGUAGE AND LINGUISTICS